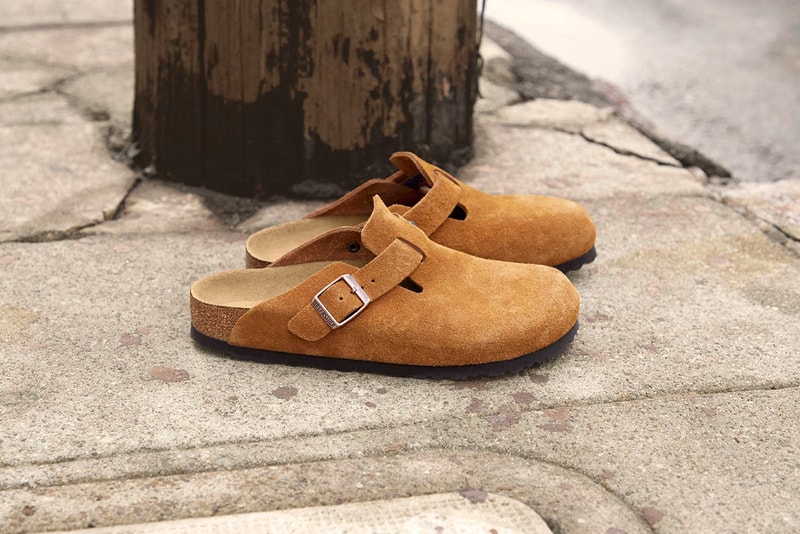 In its 250-year history, Birkenstock has been attached to a number of unflattering stereotypes. Whether due to its association with "hippies and latter-day granola crunchers" (according to New York Times) or unflattering links to youth pastors, the German brand hasn't always been considered fashionable. Over recent years, though, the brand has seen a new wave of popularity for its signature sandals.
Earlier this year, Kanye West graced the May cover of GQ wearing the classic Birkenstock Boston silhouette, while a string of high-profile and unexpected collaborations with the likes of BEAMS, Proenza Schlouer and Rick Owens — who described the sandals as "functional and sexy … maybe the sexiest shoes ever" — have helped to reposition the brand. Despite the new-found fashion links, many of the shoe's fans are attracted to Birkenstock through the comfort of its contoured cork footbeds.
"It's a brand that puts function over form," says Grailed brand director and long-time Birkenstock wearer Lawrence Schlossman. "Birkenstock is a brand that has always been about the function, the comfort and the durability of the shoe. For me, the anti-fashion fashion element of the shoe is something that I've always been drawn to." Schlossman attributes the brand's recent rise in popularity to its association with subcultural trends like normcore, placing the brand alongside Patagonia and New Balance 990s.
In that light, Schlossman positions Birkenstock as part of a rebellion against the proliferation of heavily branded streetwear-meets-luxury items. "I think aesthetically it's a bit of a rebalancing of the scales," he continues. "It's a rejection — whether it's overt or not — of this high-fashion streetwear boom that we've seen that then over-saturated the market with a certain type of clothing."
"It's a rejection of the high-fashion streetwear boom that we've seen."
For Birkenstock, this focus on function over form has underpinned the brand's ethos for the past two and a half centuries. "Functionality is what guides us," says Birkenstock CEO Oliver Reichert. "People increasingly want realness. We have a real product, its timelessness adds to its appeal, especially in the current time. We are a counterpoint to wasteful fast fashion."
The brand's rejection of the hype cycle made headlines in 2018 when Reichert told The Cut that Birkenstock had previously turned down collaborations with Supreme and Vetements. Reichert described the potential collaborations as "prostitution," while Klaus Baumann, the company's chief sales officer, added that "it was never about function for them, just logos," in a 2019 interview with The Financial Times.
Though its sustained commitment to durability and functionality have helped Birkenstock reach a new audience, the brand's collaboration strategy has also marked its expansion into this new space. "We are now seeing the brand appealing to a new audience, the more refined sneaker guy," says David Morris, buying manager at MR PORTER. "He is after footwear that is as comfortable as a sneaker but is also casual, premium and clean in its aesthetic."
Morris adds that each of Birkenstock's collaborators has brought its own design perspective to the label's classic aesthetic and functional silhouettes. Explaining the brand's decision to expand its collaborations, Reichert says, "We find it enriching working with the best creatives that can truly add newness to our product. Their design vision transports our message to a whole new audience."
Reichert is, however, keen to stress that "realness" lies at the heart of these collaborations. "It is no pure marketing exercise, there has to be a product. We carefully look at what a potential partner can bring. Product innovation that multiplies a one-plus-one into a three is a requirement."
"Birkenstock has spent centuries perfecting comfort."
One brand that has frequently partnered with Birkenstock over recent years is Concepts, including in the creation of last year's red suede Boston. "Being family-owned is evident in every facet of the business, that has remained constant with them," says Concepts creative director Deon Knight when asked about the brand's decision to collaborate with Birkenstock. "They've stayed authentic since the beginning, not many brands can echo the same sentiment. Birkenstock has spent centuries perfecting comfort."
Birkenstock's status has continued to rise during worldwide lockdown. Appropriate footwear has become an important part of many people's work from home routine, leading the Wall Street Journal to ask if "house shoes can stave off germs and boost productivity?" Birkenstock's mixture of comfort and support has made them a popular house shoe choice, with team members from both Goodhood and size? revealing that the brand's shoes are an important part of their stay-home uniforms.
Wearing appropriate footwear while working from home can be important for creating a sense of normality in the working day. While people may not have to get dressed in the same way as they once did, wearing solid shoes creates a link to their trusted routine. With many wanting a mix of structure and comfort from their day-to-day footwear, Birkenstock's silhouettes have made it the perfect shoe for the present moment.
Birkenstock's new fans may have come to the brand through its recent collaborations or through their search for quarantine footwear, but the reasons for its popularity are the same as always. Throughout its history the brand has used comfort and durability as watchwords, and these are values that have stood the test of time. While Birkenstock has rejected the trend cycle — sticking instead to its core beliefs and core silhouettes — it has found new popularity as an everyman shoe.
Click here to view full gallery at HYPEBEAST