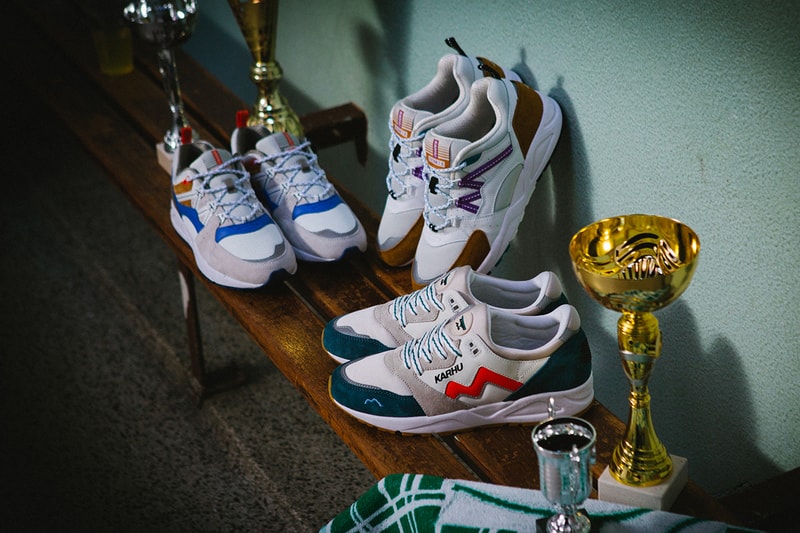 Finish sneaker brand Karhu has returned with the second installment of its "Trophy Pack," taking inspiration from both the symbols of victory and the label's very own chairman Franco Arese. Prior to working with Karhu, Arese was a professional track and field athlete who specialized in the 1500-meter race.
The pack features two classic Karhu silhouettes, the Aria 95 and the Fusion 2.0. The Fusion 2.0 has been reworked into two colorways, with one featuring a combination of "Lunar Rock" and "Dazzling Blue" across its muted white and grey upper, while the second is decked out in "Buckthorn Brown/Bright White" and completed with purple detailing. Round out the pack is the Aria 95 in a "Stargazer/Flame" colorway.
Each of the silhouettes references the capsule's influence through its footbed, which shows a repeated image of trophies alongside Karhu branding. The second "Trophy Pack" capsule is available now from the Karhu web store.
In other footwear news, Acne Studios recently updated its Bolzter sneaker.
〽️NOW AVAILABLE〽️ online at KARHU.COM, the Karhu "TROPHY" Pack Part 2. The Karhu "Trophy Pack" Part 2 consists of an Aria 95 and two Fusion 2.0s. Link to KARHU.COM in the BIO! Available online at KARHU.COM and select retailers worldwide! Not only were we inspired by the symbols of victory, we were also inspired by Karhu Chairman Franco Arese. Mr Arese used to be a professional track and field athlete and specialised in the 1500-metre race. In his heydays, he competed on the highest level against some of the biggest athletes of his time. Honouring Franco Arese, we interviewed him about his most memorable races and trophies. The interview will be shared on our blog next week. F803060 ARIA 95 STARGAZER / FLAME 130 EUR / 130 USD / 110 GBP Available unisex sizes Europe: US 4 – US 14 Available unisex sizes USA: US 4.5 – US 13 F804074 FUSION 2.0 LUNAR ROCK / DAZZLING BLUE 135 EUR / 140 USD / 120 GBP Available unisex sizes Europe: US 4.5 – US 14 Available unisex sizes USA: US 4 – US 13 F804079 FUSION 2.0 BUCKTHORN BROWN / BRIGHT WHITE 135 EUR / 140 USD / 120 GBP Available unisex sizes Europe: US 4 – US 14 Available unisex sizes USA: US 4 – US 14 #karhu #karhulegend #karhutrophy #karhuaria #aria95 #karhufusion #francoarese

A post shared by karhuofficial (@karhuofficial) on
Click here to view full gallery at HYPEBEAST