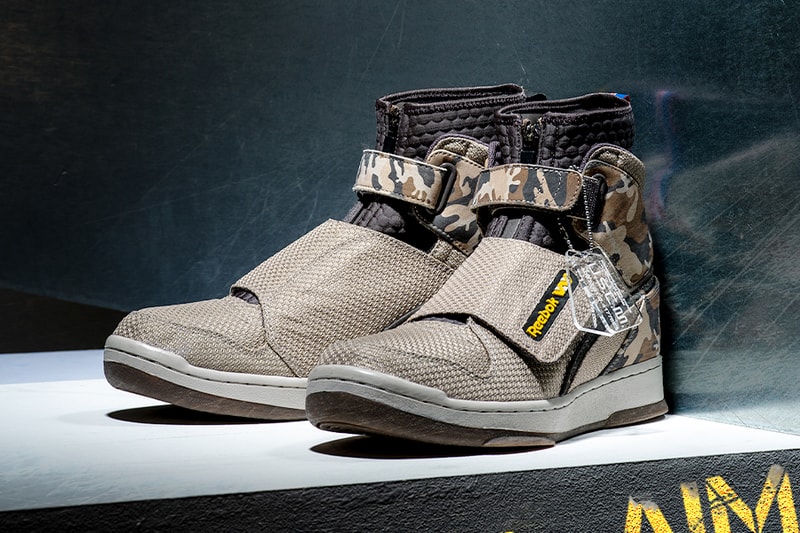 For its fourth and final "Alien Day" collaboration, Reebok has readied a special Alien Stomper dubbed the "Bug Stomper." Inspired by the U.S. Colonial Marines' main dropship in 1986's Aliens, the "Bug Stomper" is filled with franchise-specific details for die-hard Alien fans.
Featuring a textured black neoprene base layer ensconced in a tan ballistic textile shell, the "Bug Stomper" is secured by two large Velcro straps in signature Alien Stomper fashion. The larger strap replaces its standard Union Jack window box branding with the Weyland Yutani "W" logo in yellow. Desert camo print on the heel and collar is an exact replica of the special camo pattern designed for the U.S.C.M's fatigues in the film. The right heel also adds a cartoon-y "Eyes on Your Back" motif, nodding to Aliens protagonist Private Hudson's body armor.
That's not the only nod to Hudson, however: if you peel back the right forefoot's strap, you'll notice "Contents Under Pressure" — another cheeky motif printed on the back of his armor. The left forefoot's strap conceals a QR code that can be used to unlock access to exclusive Alien content. Aforementioned booties add replica U.S.S. Sulaco and U.S.C.M. Screaming Eagle patches, while the left and right sockliners boast a "Death or Glory" skull and Weyland Yutani Corp logo with a soldier number, respectively. Transparent hangtags complete the look, and the "Bug Stomper" comes packaged in an iridescent box with a futuristic camo print.
Accompanying the Bug Stomper is a two-piece apparel collection. A short-sleeved tee combines technical motifs with a hand-drawn alien, quite possibly the first time the terrifying creatures have ever been seen in a pair of Stompers. A white long-sleeve tee combines Reebok vector logos with various Alien motifs on the sleeves.
This 4th and final Reebok "Alien Day" collaboration follows up 2019's Alien Fighter "Bishop," 2017's "Final Battle" pack, and 2016's OG ultra-high Stomper. It'll release on the Reebok webstore April 26 — Alien Day — and retails for $220 USD.
For more extraterrestrial kicks, check out Reebok's Classic Leather Stomper.
Click here to view full gallery at HYPEBEAST