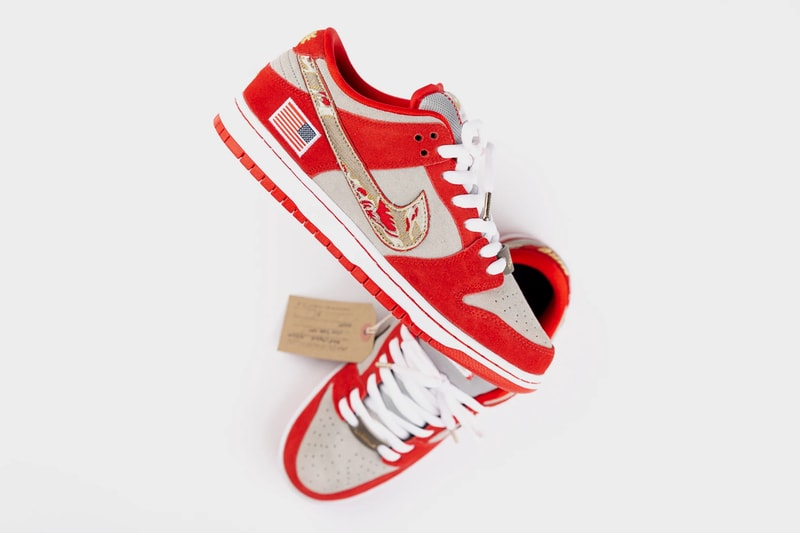 Cincinnati's UNheardof has teamed up with designer SBTG for a bespoke Nike SB Dunk Low "Nasty Boys" that's being raffled off to provide meals to Cincinnati-area emergency room and ICU workers. A cult favorite Nike SB collaboration, the "Nasty Boys" originally released alongside a "Bash Brothers" SB Dunk Low in 2015. This two-pack paid homage to the "Nasty Boy" Cincinnati Reds' sweep of Mark McGwire, Jose Canseco and the Oakland Athletics in the 1990 World Series. However, the pack was quickly hit with a cease-and-desist letter from the MLB offices, making both styles highly exclusive and extremely collectible.
View this post on Instagram

We at UNHeardof are teaming up with Legendary Singapore based customizer, Mr. Sabotage, as well as local Cincinnati Restaurant, Plesantry, to provide all of the healthcare workers in the Cincinnati area with meals. As everyone knows, the medical profession is going through strenuous days to make sure every confirmed and potential case of COVID-19 is treated in a proper and timely manner, thus leaving supplies for their employees dwindling. The $10 meals go straight to the people working in emergency rooms and ICU's. We want to provide the Nurses, Doctors, Techs, and Administration with nourishment during this time to show how supported they are in this time. This is for them. With your $10 donation, you are automatically entered in to a raffle to win a 1 of 1 pair of Size 8.5 Nike SB Dunk Low Nasty Boys customized by Mr. Sabotage himself that were made for Philip Lipschutz, the man who designed the shoe. The swoosh is treated with a custom tiger camo and comes with a special custom tag on the box as well. Every participant will not leave empty handed, you will be sent an exclusive UNHeardof x Mr. Sabotage sticker. We get asked daily for this shoe to come out again, here's your chance. Support those who are keeping you and I healthy. RAFFLE ENDS 4/11 7pm Link is in our bio Or head to UNHEARDOFBRAND.COM not to enter.

A post shared by UNheardof (@unheardofbrand) on
This SBTG-crafted take on the "Nasty Boys" is a 1-of-1 bespoke size 8.5 that was originally made for Philip Lipschutz, the man who designed the shoe. The red/gray base and American flag heel patch are both left intact, but the gold Swoosh is replaced by SBTG's signature camouflage print for an artisanal tweak. Both the tongue tag and lace deubre have been swapped out for signature SBTG embellishments as well. A special custom tag completes the stylings.
The UNheardof x SBTG Nike SB Dunk Low "Nasty Boys" is only available through a raffle in partnership with Cincinnati-based restaurant Plesantry. Each entry is $10 USD, and provides one meal to a Cincinnati-area healthcare worker. Interested parties can enter as many times as they'd like at the UNheardof webstore from now until 7 P.M. EDT on April 11. No participants will go home empty-handed: each entry will also receive an exclusive UNHeard Of x SBTG sticker.
For more collaborative footwear news, take a look at Brain Dead's fuzzy makeover of the Reebok Classic Leather.
Click here to view full gallery at HYPEBEAST